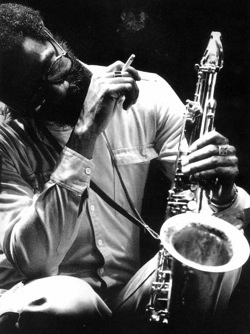 I can still remember the first time i heard Joe Henderson's playing. Some 20 years ago when i was a college student living in a dormitory, i was in my room listening to some music. i won't mention what it was- i'll just say that it was music that many college musicians considered contemporary and hip in 1987 Los Angeles. one of my neighbors, a trombonist named Dan Fox. handed me a cassette tape and said something to the effect of, "you need to be checking THIS out." the tape was
Canyon Lady
, by Joe Henderson, and I was blown away by his sound, melodic lines and his ability to move between a hard- swinging eight note line, long, sweeping melodic flurries, funk- drenched syncopated riffing and gutteral multiphonic shrieks. he had the tools of the blues players, the be-boppers and the more avant-guard saxophonists and he combined them in a way that was distinctly Joe. i immediately became a disciple. from
Canyon Lady
, i went on to listen to
Page One
, his classic Blue Note side with Kenny Dorham, Pete La Rocca, McCoy Tyner and Butch Warren, and
Mode For Joe
featuring Lee Morgan, Cedar Walton, Bobby Hutcherson, Curtis Fuller, Ron Carter and Joe Chambers. many of the characteristics of his playing i heard on
Canyon Lady
were already apparent on these earlier sides. it seems to me as if Joe Henderson was more or less fully formed by the time he started to gain public recognition. i am also very moved by his many smart, sophisticated compositions. a few that immediately come to mind are "A Shade Of Jade", "Black Narcissus", "Punjab", "Tetragon", "Afro-Centric", "In-n-Out", "Inner Urge", "The Kicker", "Mo' Joe"- the list goes on and on. Henderson was a participant in quite a few of the great 60's Blue Note sessions . Larry Young's
Unity
, along with Andrew Hill's
Black Fire
and
Point Of Departure
and of course his own dates,
Our Thing
,
Inner Urge
, etc. are essential documents of 60's post-bop saxophone. as the influence of funk, rock and other styles became more prevalent, he was able to adapt and still remain completely himself.
Red Clay
and
Straight Life
by the late trumpeter, Freddie Hubbard feature Henderson's powerful blowing. the majority of his work as a leader on the Milestone record label is also great. his later output- records from the Verve catalogue, are not as appealing to me only because the sound of his saxophone and his bands had lost a bit of the edge that attracted me to his music in the first place. they are beautiful albums; he's of course an undisputed master but to my ear, they don't have the aura of urgent exploration and that feeling of trying to decipher some unresolved dissonance that his earlier recordings do- but that's not what this post is about. the solo that i'm posting is from
So Near, So Far (Musings For Miles)
which features John Scofield, Al Foster and Dave Holland. "Joshua", written by Victor Feldman and Miles Davis is an uptempo composition with an AABA form. the A sections are 12 bars long, in the key of D minor. they are in 4/4 time with a repeating bass figure. the B section begins in 3/4 time, moving through a descending cycle of II-V's for 4 bars and then switching back to 4/4 for 4 more bars. the solo section is longer because the B section is played 2 additional times. Henderson's unique lines can be heard throughout his improvisation. he reminds me of Sonny Rollins in that he intersperses his familiar motifs with bursts of finely wrought melodic invention. Al Foster, a musical collaborator on many of Henderson's later projects displays such an empathy, commenting, sometimes arguing with and in the end, reinforcing Henderson's statements. Solo starts at:52.